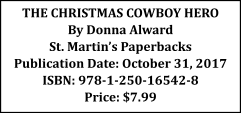 New York Times bestselling author Donna Grant returns to Texas, where a small-town legend just might find the greatest gift of all. . .
'Tis the season for ex-Navy SEAL Clayton East to come home for the holidays—even if the mood at home is anything but festive. His father is ill. The East Ranch is in financial trouble. And now it's on Clayton, the prodigal son, to make sure his family doesn't lose everything.
Headstrong Abby Harper is like a mother to her younger brothers, who she's helped raise since she was a teenager. Keeping them in line is no small task while she's also working toward her college degree. And now that one of her brothers has been arrested for stealing cattle at the East Ranch, Abby is at her wits' end. But there is a silver lining: Clayton East. He believes in second chances, and is willing to give one to her brother this Christmas. Letting beautiful Abby—and the inescapable longing in his heart—off the hook, however, is a whole 'nother story. Could it be that the woman of this local hero's dreams has been back at home all along?
New York Times
and
USA Today
bestselling author Donna Grant has been praised for her "totally addictive" and "unique and sensual" stories. She's written more than thirty novels spanning multiple genres of romance including the bestselling Dark King stories,
Dark Craving
, Ni
ght's Awakening
, and
Dawn's Desire
. Her acclaimed series, Dark Warriors, feature a thrilling combination of Druids, primeval gods, and immortal Highlanders who are dark, dangerous, and irresistible. She lives with her two children, a dog, and four cats in Texas.
When do the holidays official start for you?
I'd say October 1st, because I get ready for Halloween. Then November 1st to get ready for Thanksgiving, but it day after Thanksgiving, it's all Christmas!
What's your favorite thing about the holidays?
The decorations. I love to see it all!
Are there any holiday traditions you do every year without fail?
We spend Christmas Eve at my parents where there is a bunch of finger foods. Then Christmas Day everyone comes to my house where we have gumbo (Cajun tradition). Then we head to the movies about about 2.
What's your favorite holiday movie?
It's a toss up between White Christmas and Love Actually and Christmas Vacation. We watch them every year.
Do you have a favorite holiday book?
No. I'm an equal opportunist for holiday books. :)
What's your all-time favorite holiday song?
What's your favorite activity during fall or winter?
Around me we have the Texas Renaissance Festival, which is the largest in the US. It always begins at the end of September and runs until Thanksgiving weekend. It always signals the begin of fall for us.
What's your favorite gift you've ever received or given?
I received my long-haired Chihuahua for Christmas. She was unexpected, but so amazing!
Do you have any items on your wish list this year?
Walls. The flood from Hurricane Harvey took everything, but I'd like walls and doors for privacy again. lol
Any resolutions or goals for next year?
I try to make some improvement each year. For 2017 it was balance. I'm not sure what 2018 will be yet. I might still need to work on balancing everything.