Publishing is a funny industry. It's not the kind of job where you punch a clock, or get paid an hourly wage. There's no security either – the end of a contract could find you without a publisher. It's scary stuff, and you learn to take a lot on faith. It also can leave you with a sense of urgency. Urgency to meet deadlines, urgency to put more books on the shelves and to grab every opportunity that comes your way with both hands.
It's an urgency I feel a lot, and it has me working on fun projects between deadlines, seizing some potential opportunities in this crazy career I've found myself in. So while today I should probably talk about my latest release on the shelves, instead I'm going to talk about guilt-free downtime.
There are simply times in life when certain things matter more than others. And when that happens, you need to give yourself permission to step away and do what needs to be done. Sometimes that time away is simply to relax, rest, and refill the creative well. Other times it is time with kids, either on vacation or simply riding bikes together at home. Lately my downtime has been focused on extended family, as my father in law underwent major open heart surgery. My inlaws don't live close by – it's a good three hour drive. And the surgery was done close to us as it's the major heart centre for Atlantic Canada. As soon as we heard what the schedule was, I decided right then and there that work was going on the backburner.
Nine days ago they arrived, and it began days of hospital runs, extra beds, cooking meals, packing lunches. Not to mention nail-biting worry, holding hands, tense phone calls (that last bit mostly the day of the surgery). My sister in law arrived from Ontario on the Wednesday and stayed until the following Monday. On the weekend, two other sets of siblings-in-law came and went. As I'm writing this, it is just my mother in law still here and we are hopeful "The Mister" will be able to go home at the end of the week. As you're reading this, hopefully he's back in his own comfy chair and getting on with recovery.
My work output? Suckage. But I knew from the beginning that other things came first and that if I did any work it would be because I had an opportunity. Otherwise, I was just going to squeeze it in when I could. That's exactly what's happened too. And I'm exhausted. We all are, to be honest.
The thing is, I wouldn't change a single bit of it. As far as relaxation, it hasn't been. But it is important that we give ourselves permission to step away from the job for whatever reason. While the circumstances were not great, I've enjoyed having the family here. We've laughed a lot, worried together, talked, you name it. I'm not sorry they've been here- in fact, I wouldn't have had it any other way.
We have such a tendency to be so hard on ourselves and I certainly could have been. I could have vowed to write so many words a day but it simply wouldn't have happened. Then I would have been frustrated and stressed. Instead, I'm itching to get back to it again, and hope that the words start coming much quicker very soon.
In the meantime, I do have a release this month from Harlequin Romance called
"Hired: The Italian's Bride".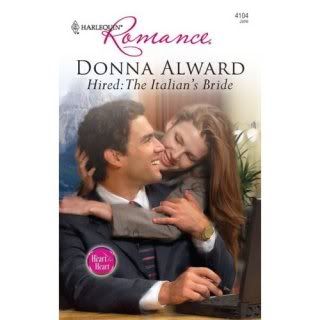 In it the hero also chides the heroine for working to hard, telling her to take time to smell the roses so to speak – good advice. And it's easy taking it from Luca since he's ever so much sexier than I am.
You can read an excerpt on my
website
and also join my newsletter list for a chance to win a copy as well as other goodies.
****
Donna's book
Hired: The Italian's Bride
can be purchased from e-Harlquin by
clicking here
.