First off, the winners are....
DEAD GIRLS ARE EASY was won by.....SUE A


The $5.00 B&N gift card was won by....
Anne

Both of you have 48 hours (until
Tuesday night
!) to email me at
pattifischer@yahoo.com
with your name and mailing address!
Remember the book giveaway rules and notice there are now two more books added. :)
http://romrevtoday.blogspot.com/2007/09/october-book-giveaway-rules.html
Now...for our next book giveaway...THE TROUBLE WITH PARADISE by Jill Shalvis! I reviewed it and gave it a Perfect 10. Read the book and you'll see why. Post away here in this thread and I'll pick one winner Wednesday night.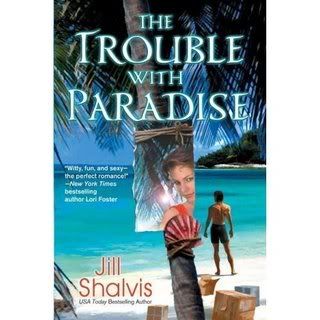 THE TROUBLE WITH PARADISE – Jill Shalvis
A Perfect 10
Berkley Sensation (Trade Paperback)
ISBN-13: 978-0-425-21719-1
ISBN-10: 0-425-21719-1
October 2007
Romantic Comedy
In the South Pacific – Present Day
Just sit right back and you'll hear a tale.
A tale of seven stranded castaways.
After a hurricane destroyed their sailing yacht and set them adrift.
Here they are on a remote island in the South Pacific.
Our heroine, Dorie Anderson, unlucky in love and clumsy.
One sight of Dr. Christian Montague gets her pulse racing.
Also on board are two other ladies, Brandy and Cadence, who befriend Dorie.
While Andy the baseball player hopes to make a pitch or two for our heroine.
Finally, let us not forget the yacht's captain Denny.
And his mighty chef Ethan.
A motley group indeed.
Watch as these seven brave souls battle the sea and elements.
And survive on a deserted island.
How will they stay alive?
Will they get rescued?
But the biggest question of all is…
Could one of them be a murderer?
If the song sounds like the theme from that long ago television show, then you know where THE TROUBLE WITH PARADISE is going right from the start. An unlikely group of people get together for a luxury cruise that turns into an adventure no one will forget. Dorie just wants something to go right in her life. She meets gorgeous guys, and she's literally tongue-tied. When she thinks she witnesses someone being thrown overboard during the storm, she's not sure who could be responsible. Well, except she pretty much rules out the good (and very handsome) doctor. Instead of keeping close to Christian, she avoids him at all costs, because there is just something about him that perturbs her. Hmm…could it be that he turns her on?
The other characters provide a colorful charm to the tale and it wouldn't be the same without any of them. A motley group indeed! Even with the humorous goings on in THE TROUBLE WITH PARADISE, there is still a mystery to solve. Most importantly, how will they survive without food, or heaven forbid, chocolate for several days?
Over the years, I've read many Jill Shalvis books, but THE TROUBLE WITH PARADISE is going to rate as possibly her very best. The writing is witty, exceptional, and the story is just loads of fun; it had me laughing out loud several times. I hated to see it end! An outstanding fun read like this deservedly earns my vote for RRT's Perfect 10.
If you had one book to take with you on a trip, then I highly recommend taking THE TROUBLE WITH PARADISE. Except, of course, if you're going on a cruise.
Patti Fischer