EXCLUSIVE winner is ....
Nascarandbeans

THE COURTESAN'S DAUGHTER winner is...
ACdaisy95
MY BIG FAT SUPERNATURAL WEDDING winner is...
Lesha

Congrats winners, please email me at
pattifischer@yahoo.com
within 48 hours!
By the way, I have not heard from
Rhonda/Blessedheart
for claiming her book...if I do not hear from her by Friday night's chat, I'll give that away in my regular chat on Friday night beginning at 9:30pm in the RRT chat room.
Now, for the next book giveaway.......
Carly Phillips
SEALED WITH A KISS
is going to be given away!!! Post away for a chance to win.
The winner will be chosen
Sunday night
!
Here is a copy of the RRT review for Sealed with a Kiss: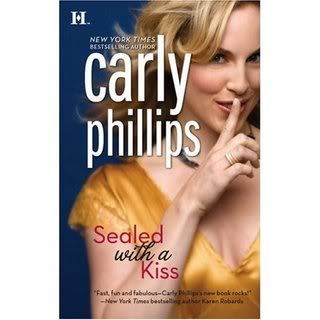 SEALED WITH A KISS - Carly Phillips
HQN
ISBN: 978-0-373-77239-1
October 2007
Contemporary Romance
Dentonville, Connecticut - Present Day
Molly Gifford seems to have it all, a great legal career and a hot boyfriend. But what she really wants in her life is a family. Her cold and distant mother, Francie, has always been too busy trying to find her next rich husband to spend any time having a relationship with Molly. The man Molly believed to be her father couldn't even be counted on to send a birthday card. So when she receives news that she has a biological father who didn't know that she hadn't been put up for adoption, Molly packs her bags and leaves everything behind to seek him out. She is delighted to find a place in the Addams family, but when her newfound father, General Frank Addams, is arrested and charged with the murder of his business partner, Molly must face the man she left behind. Daniel Hunter is the best criminal attorney she knows, and the man her father needs to prove his innocence. Molly also believes that he may also be the man she needs to fill the remaining hole in her heart.
It has been a year since Molly's departure, and Daniel is still trying to get on with his life. Years after being abandoned by his parents and living in uncaring abusive foster homes, Daniel finally opened up his heart and gave it to Molly. When she threw it back in his face, he realized his worst fear was true -- he isn't worth loving. When Molly unexpectedly shows up at his door begging for help, Daniel's first instinct is to turn his back on her. But Daniel can't resist helping an innocent man and reluctantly agrees to take the General's case. With the chemistry between himself and Molly still present, Daniel decides to pursue that spark. When the case is over, however, he will be the one walking away with his heart and pride intact, no matter how hard it may be.
Other family and friends include Edna, Molly's new grandmother; Robin and Jessie, Molly's half-sisters; Lacey and Ty, Daniel's close friends; and Sonya and Seth Markham -- the murdered man's family and friends of the Addamses. From light-hearted to petulant, each of the secondary characters adds to the storyline in humorous, supportive, and painful ways.
How childhood traumas affect Molly's and Daniel's lives is the central theme of SEALED WITH A KISS. Molly has spent a lifetime fruitlessly pursuing her mother's affection. Daniel has always hidden his fears. The only people who know about his childhood are the two friends who shared part of it with him. He risked everything by opening up to Molly, and her rejection closed down all hope in him. Well drawn protagonists who are afraid of risking themselves but who need each other fuel the story. The attraction between Molly and Daniel is deep and heartfelt. Warm writing and quick banter make this an enjoyable read. Pick-up a copy of SEALED WITH A KISS and savor this tale of second-time-around romance.
Jennell