Or...HOW TO LOSE AN EXTRATERRESTRIAL IN 10 DAYS by Susan Grant...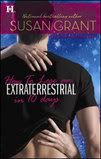 This came out in August, so not new, but you have 24 hours to get your name in by posting the answer to this question.....Do you want this book? :)
Be sure to visit
www.susangrant.com
to check out the blurb!
Actually, you have less than 24 hours as I will be posting the winner at around Midnight tomorrow night!
Good luck!
Remember, the other two book winners will be drawn tomorrow night and you never know what I'll pull out of the book box tomorrow night!