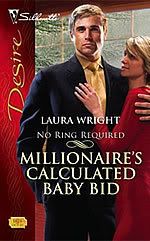 Our guest is
Laura Wright
!
Laura is the author of several Silhouette Desires but her biggest accomplishment has to be that of Mommy. I'm thrilled to have Laura as our guest, and be sure to check out the end of this blog for a contest!
1. What is the title of your latest release and what's
it about?
MILLIONAIRE'S CALCULATED BABY BID. Kind of a long,
crazy title, right? If I recall correctly, my title
was, GOOD BOOK NUMBER.
2. What is the hardest part of writing?

Honestly, the hardest part of writing is my lack of
time. I have 2 little ones and they keep me very
busy. Hell, even when I do have the time to write, I
make frequent trips downstairs to see them.. I'm such
a sucker:-)
3. How do you stay motivated?

I love writing. Pretty simple.
There is nothing like getting a new idea, seeing it on
the page, published, and high-of-all-highs, hearing
someone say they love it too.
4. Which authors or friends have influenced you over
the years, whether for their writing or for their
friendship?

ooooooo, toughy.
Well, I have to say Jude Deveraux and Victoria Holt
are big influences for me because they were my
introduction to the romance world. Also, my teacher
and friend, Barbara Ankrum, who showed me everything
from how to put a sentence together to the importance
of emotion, to the hero's journey. And then I have
several friends in the industry to pick up my
despressed backside when I get a heinous review, or
remind me why it is I write at all when I forget.
Jennifer Apodaca, Julie Ganis...these women rock!
5. Tell us about what's coming up for you.
Millionaire's Calculated Baby Bid (jeez, i'm out of
breath from just writing that title) is the first book
of my wife-for-hire series, NO RING REQUIRED. It's
about 3 women who are in business together, but not
neccessarily friends, not yet, who try to keep the
secrets of their pasts hidden from each other and the
men that come into their lives.
You can read exerpts from each book on my website if
you're interested, then afterward, come and mock me on
my blog...
Learn more about Laura by visiting her
blog
or her
website
!

Check out RRT's review of
Millionaire's Calculated Baby Bid
And now....for the contest! I'll give away one copy of Millionaire's Calculated Baby Bid to one lucky winner! Just post away! I'll pick a winner on MONDAY night.