The winner of Decadent by Shayla Black is...
KIM W
....
Kim, email me at
pattifischer@yahoo.com
She has 48 hours to notify me!
The next book to be given away is
Born to be Wilde
by Janelle Denison! This is going to be another quick one in that the winner will be picked tomorrow night!
You have until 11pm est on Wednesday night to enter this contest and the winner will be announced shortly thereafter!
I want to hear from you on this subject: Have you read Janelle Denison and if so, what is your favorite story by her?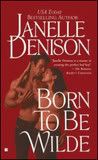 Here is the review that our own Sinclair Reid wrote on Born to be Wilde:
BORN TO BE WILDE - Janelle Denison
Wilde Series
Berkley Sensation
ISBN: 978-0-425-21082-6
September 2007
Contemporary Romance
Chicago, Illinois - Present Day
Joel Wilde lives life on the edge -- first as a Marine, and now as a security specialist with a couple of his cousins. When Zach Marshall, an old military buddy, calls begging Joel for his help in protecting Zach's sister Lora, Joel is reluctant at first. But when Zach explains why he needs Joel to watch over her, he finally agrees. Plus, Zach did save his life once. Joel enjoys watching the lovely and beautiful Lora. She's hot and sexy, and, just like the rest of the men in the bar where she works, Joel isn't immune to her charms. Joel and his cousins keep an eye out for the bad guys hoping to intercept them before they even get to Lora. Unfortunately, they do get to Lora first, and Joel is angry as hell. Not only at himself for not protecting her, but at Zach for putting her in that kind of danger because of his gambling problem. Being around Lora soon brings another kind of problem to the fore...an attraction too strong to ignore.
Lora Marshall works at St. Claire Hotel as a masseuse by day, and at night she waitresses at The Electric Blue to help out her best friend, Sydney. Lora loves her day job, but she also enjoys working at the bar, letting off steam, being someone she's not. For the past few nights, a good looking guy has been coming in and sitting in her section, sometimes alone and other times with a couple of guys. He introduces himself as Joel, and Lora can't help but be attracted to him. Is it the black t-shirt and jeans he sports, that come-hither sexy smile, or simply the man himself? Well, whatever the reason, Lora wants to get to know Joel better. One night, Lora is accosted at the bar by two men claiming that her brother Zach owes a lot of money and if he doesn't pay up soon...she'll pay. Lora is rescued by Joel and later learns that he's a friend of Zach's. What a coincidence...or is it?
Soon, danger is closing in, Zach isn't answering his phone calls, Lora and Joel are hot and heavy in the bedroom, and secrets are being kept. What will happen when everything is revealed? What about Lora and Joel? Is she just another notch on his bedpost? Why is he really here?
BORN TO BE WILDE is one wild ride. Joel is a heartbreaker if there ever was one. But he's also a loner, always standing on the outside looking in. Lora is a strong, self-assured woman with a healthy libido that's long overdue for an upgrade. Joel turns her on like no other man ever has. He's dangerous, takes risks, and loves every minute of it. Together, Joel and Lora are exciting, captivating, and great characters. The sex between them is spicy, steamy, and sometimes naughty. Secondary characters include a few of the Wilde family members; Lora's friend, Sydney, who, by the way, has a side story going on throughout this adventure; Cassie, Sydney's daughter; and Daniel Barnett, Cassie's teacher who likes Sydney. Readers will learn quite a bit about Sydney and why she has a hard time believing that Daniel wants anything more than to get into her pants. Definitely makes for an intriguing side story.


Janelle Denison's BORN TO BE WILDE is enticing, adventurous, dangerous, and has a sexy hero who will leave you panting for more. So what are you waiting for? Go get your copy today.

Sinclair Reid