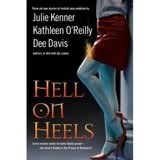 HELL ON HEELS - Julie Kenner, Kathryn O'Reilly, Dee Davis
Berkley Sensation
ISBN-10: 0-425-21527-X
ISBN-13: 978-0-425-21527-2
June 2007
Paranormal Romance Anthology
After untold centuries, Satan is ready to retire. All he can think about is relaxing on a beach somewhere with a drink in one hand and a beautiful woman or two in the other. But he can't just leave the kingdom he's built unmanaged, and whichever of his kids takes over must prove to him that they deserve it. Daddy's little girls have always wanted to make him proud, and he has high hopes one of them will do just that.
Lucia's Story - Julie Kenner
Monaco - Present Day
An assassin, Lucia is the only one of her half-siblings who went into the family business so-to-speak. But centuries of killing have worn her out, and she yearns for something; she is unsure of what. But Daddy dearest has offered her something she can't refuse, his kingdom and freedom. She just has to complete one last assassination and the job is hers. Too bad her quarry has yet to make an appearance. However, the gorgeous guy she meets in the bar is more than enough to keep her busy until her target surfaces. But Dante is not a man to be easily forgotten, and when a one-night stand quickly develops into much more, Lucia will have to choose between love and freedom.
A sexy start to the anthology, Lucia and Dante are only interested in a fling to pass the time in Lucia's Story. However, the instant attraction between them tells another tale, and soon these two are making and hoping for promises they're not sure they can keep. Their secrets, initially because they never expected to see each other beyond their one night together, are big enough to stop any relationship in its tracks. What man is going to accept the Devil's daughter? But fate has something interesting in store for these two, and readers will be enchanted with the outcome.
Jezebel's Story - Dee Davis
Italy - Present Day
Jessie is basically a courier. She takes a product from point A to point B, and if the product happened to be locked in a safe to start with, it's of no consequence to Jessie. Then an unexpected client pops into her life with an offer she can't refuse. It seems Daddy Satan would like Jessie to acquire the Protector of Armageddon, a religious artifact that has just resurfaced, in return for the keys to Hell. Although it's not a prize Jessie has ever aspired to, the opportunity is not one she can pass up. Unfortunately, stealing the box will require Jessie to cross paths with her ex, David Bishop, a man who was too focused on avenging his brother's death to love Jessie. Still, she hasn't exactly been honest with him either. It's not as if she could just roll over in bed and announce her father is the devil and she is immortal. Can Jessie and David make this second chance work?
An immortal half-demon falling in love with a human can be a heartbreaking proposition as Jessie discovers in Jezebel's Story. Daniel is still as steadfast in his pursuits as always, and Jessie isn't as over him as she thought. But the race for the religious box has the appeal of completing both of their quests, Daniel for vengeance and Jessie for peace. The one question neither of these two is prepared for is are they willing to give up everything for love?

Lola's Story - Kathleen O'Reilly
Caribbean Beach - Present Day
Lola isn't one of those women who cop to the mantra: "Don't hate me because I'm beautiful." As the Devil's youngest child, she couldn't care less what others think of her. However, after centuries of seducing kings, politicians, and celebrities, Lola would love to wake up one morning next to someone who loves her. Unfortunately, her 'gift' is to steal the soul of anyone she sleeps with, and it looks as if Daddy wants her to take another one. But can she hurt the man who feels like heaven in her arms?
Beauty can be deadly as our heroine aptly shows in Lola's Story, but it can also be lonely. As the baby in the family, Lola knows the only reason her father has given her this opportunity is that somehow her older siblings have failed. But for the chance of getting rid of her gift, Lola is ready to give it a shot. Her target, Christopher 'Crash' St. Clair, is totally unexpected. Just looking at him washes Lola in feelings of safety and security. Crash has his own baggage he's dealing with, a curse that has followed his family for generations. Or is it a gift? Will Lola steal the soul of the man who has already given her his heart?
Three lovely ladies, three risky challenges, and three entertaining tales enchant in HELL ON HEELS. Who will prevail? Lucia, Jessie, and Lola all have varying strengths that make them ideal for the top position in their father's organization, but they all share one weakness...love. Of the three, Jessie's story is probably my favorite if just for the conversation where she explains her father to her boyfriend. Dante, David, and Crash are the alpha males one would expect, but they also show a sensitive side that ultimately deepens the attraction between them and their particular love interests.
A little action, lots of romance, and a bit of fire and brimstone brings HELL ON HEELS to life. Pick up a copy and check it out.
Kathy Samuels