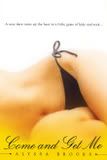 COME AND GET ME - Alyssa Brooks
Berkley Trade Paperback
ISBN: 978-0-425-21594-4
June 2007
Contemporary Erotic Romance
New York City, New York - Present Day
When Sadie's boyfriend, Dylan, proposes marriage to her in a restaurant, and in front of her parents, no less, she panics. Of course, Sadie loves Dylan to bits, but she is only twenty-seven years old and does not want to get married until she is at least thirty. But Dylan looks so cute and earnest, and Sadie really does love him, so she says yes.
Thirty-nine days before their wedding, Sadie is absolutely and positively sure she can't marry Dylan. What with her and Dylan's parents driving her crazy about the wedding details, and her panic attacks, well Sadie can't breathe. Dylan wants to help, but how many times can Sadie tell Dylan that the thought of marrying him makes her break out in hives and that fifty-pound weights are sitting on her chest, without hurting his feelings. Besides, the sex between Dylan and her lately has not exactly been stellar, not to mention the erotic and nightmarish dreams that she is having about a cop whose face she can't see. Are these dreams Sadie's subconscious telling her she should not marry Dylan? That is when Sadie decides to run, away that is. She is torn though, how can she love Dylan so much, but still be too scared to marry him? So Sadie decides to issue a challenge to Dylan, 'come and get me,' leaving him clues on where she is. Is Dylan up for the chase?
COME AND GET ME is a sharp, funny, and emotionally smart book. Sadie is a free spirit who can't seem to control her panic attacks no matter how much she loves Dylan, but she can be self-absorbed and annoying. On the other hand, readers will love Dylan. I kept saying, 'oh, he is so sweet and loves Sadie so much,' then I just wanted him to grow a pair, and he does, big time. What makes COME AND GET ME such a smart book is that it deals with some very realistic issues and qualms that people actually have about marriage. Despite their love, Sadie and Dylan are hiding their fantasies, fears, and deepest desires from one another. The chase gives them a chance to break down the emotional and sexual barriers between them and create a more satisfying and honest relationship.
During the course of the story, there were times Ms. Brooks almost lost me, but her ability to keep focus on not just the sexual relationship between Sadie and Dylan, but the emotional one, pulled me right back in. The story centers around Sadie and Dylan, but secondary characters add richness to the tale. The conversations between Dylan and Sadie's father are laugh out loud funny.
COME AND GET ME is a great summer book that is entertaining but also has a profundity to it that might surprise readers. Go and get COME AND GET ME; I highly recommend it.
Nickole Yarbrough