I'm giving away a copy of DESPERATE DUCHESSES to one lucky winner! Just post and you'll be entered to win. But hurry, since I will be drawing the winner on Wednesday night (June 13th) at 11pm eastern time!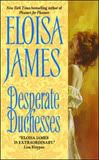 DESPERATE DUCHESSES - Eloisa James
Avon Books
ISBN: 978-0-06-078193-4
June 2007
Historical Romance
Georgian England, 1781, 1783
The cartoon in the window of Humphrey's Print Shop depicting Lady Roberta St. Giles as having a hunched back and a single eyebrow spanning a bulging forehead has now been reproduced in Rambler's Magazine. Just in case any potential suitors might have missed the original, no doubt. Not that the artist had ever seen the young lady, but, after all, she's the spawn of the Mad Marquess, isn't she? The poem her father sends in reaction only make matters worse, for the flamboyant, unconventional Marquess of Wharton and Malmesbury is a prolific but bad poet.
Lady Roberta blackmails her father into allowing her to attend Lady Cholmondelay's New Year's ball by threatening to burn his poems, but he insists Mrs. Grope, his resident "good friend," accompany them. He also insists Roberta use the local, though incompetent dressmaker because of her several cold and hungry children. So the stage is set for Roberta's evening to fail, and fail it does, but in one thing she is successful. She sees the man she intends to have as her husband, the Duke of Villiers. The duke is a handsome, dignified, very controlled gentleman guaranteed to stage no embarrassing incidents; in short, the very opposite of the Mad Marquess. Roberta tumbles into love. It takes her well over a year and another cartoon before her campaign can begin. She finally wins her father's consent to go to London without him or Mrs. Grope.
The Duke and Duchess of Beaumont have lived apart for eight years: the duke in London as a powerful member of the House of Lords; the duchess in Paris as a popular member of the Beau Monde. Their Graces were betrothed as children and married for a very short time before an incident sent Jemma running to Paris. Though now home in London, her scandalous reputation has preceded her, but her husband's title, fortune, and influence -- and her own beauty and grace -- will prevent any doors being closed to her. Understandably, the atmosphere in Beaumont House is strained...but courteous. It is this large mansion in Kensington, because of her distant connection to its inhabitants, that Lady Roberta has chosen as a base for her campaign to capture the Duke of Villiers.
Roberta's relatives do, indeed know Villiers, and before long he and her cousin Jemma are engaged in a series of matches to decide which one is the best chess player in England...though gossip hints at another prize. The lady's husband, perhaps with his need of an heir in mind, also challenges Her Grace.
Beaumont House has two more guests in residence: Jemma's brother Damon, the Earl of Gryffin, an altogether charming and seductive man, and his bastard son Teddy, six, whom he adores. Lord Gryffin has a more serious game in mind to play with Roberta.
As Eloisa James's elegant novels are wont to do, DESPERATE DUCHESSES has an ensemble cast. It introduces a storyworld and some of the characters who inhabit it now and in future works. Ms. James does her usual excellent job of conveying the time and place with attention to authentic detail. The interaction of the characters, the sensuality and the emotions they consent to reveal, and the dialogue and the humor all work together to produce a highly literate and entertaining novel. The chess matches play an important part in the plot, not just in themselves, but also as parallels to the games of seduction.
The world of DESPERATE DUCHESSES is a sophisticated one peopled by those who have very different ideas from most of us about marriage and fidelity. For this reason, as much as I attempt objectivity, it's not easy to like some of the choices the characters make. They seem to be living in individual isolation, so wrapped up in themselves they fail to "see" each other. Or, perhaps it's their own selves they need to examine. However, readers of Ms. James already know that her people are complicated beings capable of change and growth. If not all of the conflicts have yet to be resolved, we'll just have to be satisfied by the happy ending we've been given while awaiting the next episode of Desperate Duchesses.
Jane Bowers
Visit Eloisa's website at
www.eloisajames.com