Lots of fun this weekend!

Now it's time to announce the winner. Reaching into my super tight prize picker...
Drumroll...
The winner is.......
CaityMack
!!!!!!!

CaityMack, email Dakota at dakota@dakotacassidy.com and she'll get your prize out to you. Congratluations!!!!!!!!
As a special treat, I pulled off an old review RRT Erotic did for one of Dakota's books. For those of you who haven't ::gasp:: read Dakota, here's a peek at one this talented author's stories.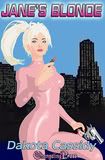 JANE'S BLONDE - Dakota Cassidy
Changeling Press - www.changelingpress.com
ISBN-10: 1-59596-434-7
ISBN-13: 978-1-59596-434-2
September 2006
Erotic Paranormal Romance - Short Story
Phoenix, Arizona and Las Vegas, Nevada - Present Day
When her sister goes missing, former NSU -- that's short for No Stone Unturned – agent Jane Blonde is called back into action to find her. Jane retired from the agency several years before after her sizzling hot affair with a fellow agent abruptly cooled and she found herself dumped in Rome. Thinking she needed to make some life changes, i.e. get herself a man as far removed from the men she worked with as was possible, Jane left NSU and married tire heir Conrad Blonde. Alas, Conrad turned out to be a womanizing jerk and after a divorce that left her with a lifetime supply of radial tires and a freezer full of ice cream, Jane is about twenty pounds and a lifetime away from her super agent glory days.
However, her sister needs her. Who else could possibly know Cindy better than Jane? After all, Cindy has followed in her footsteps going from beauty queen to secret agent. Armed with a lipstick gun, a pink lycra bodysuit and sheer bravado, Jane heads off to Phoenix to track down a lead. It is quickly apparent that she's way off her game but fortunately (or unfortunately, depending on how you look at it), NSU chief Thor Newcastle has been keeping an eye out for her and has sent in reinforcements. The unfortunate part? The backup is none other than Alejandro Estes, the very same man who broke her heart in Rome.
Looking not a day older than when they last parted seven years ago (so unfair for this aging beauty queen) and still as sexy as ever, it's not long before the two are at it like cats and dogs…in heat. But even as Alejandro says he still wants her and always has, he's still not talking about what went wrong and still not making her any promises. He's got secrets and former Agent Blonde is going to uncover every one of them.
JANE'S BLONDE lives up to its name with gusto! Ditzy and daring, you can't help but adore Jane as she tries to get back into the spy game and give the man she loves a piece of her mind. Alejandro's a bit of a dark horse (or should I say wolf?) but the perfect foil for Jane. Lots of passion and drama queens and enough gadgets to even make that *other* super spy green with envy, Dakota Cassidy has written a story that is pure escapist fun.
Isabelle Spencer