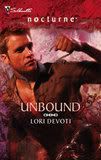 Meet Lori Devoti, who has gone from writing romantic comedy to paranormal romance. You might recall her first two books, Love is All You Need and Love is All Around. June marks the release of her first Nocturne, Unbound.
Sit back and meet the multi-talented Lori Devoti:
What is the title of your latest release and what's it about?
Unbound is a June 2007 Silhouette Nocturne release. It's a contemporary dark paranormal. The world is based on Norse mythology--if it were real and alive in our world. The hero, Risk, is a hellhound (shape-shifter) and the heroine, Kara, a witch. Risk has been bound to an immortal witch, Lusse, for 500 years. At the beginning of the book he is sent to retrieve Kara so Lusse can drain her of her powers. Kara, however, doesn't even know she (Kara) is a witch. She is trying to find her twin sister who has disappeared. Twin witches possess legendary power and Risk thinks Kara and her sister may be able to help him escape his binds to Lusse. Kara thinks Risk is helping her find her sister. Much chaos and romance ensues.
What is the hardest part of writing?
The hardest part of writing...getting past the doubt, the little voice in your head that says this is crap, what are you thinking, you are going to embarrass yourself. I could go on, but I won't. Seriously, I think all writers have that little demon sitting on their shoulder. You have to just shove a twinkie or something in his mouth (not yours!) and keep writing.

How do you stay motivated?
I am insanely self-motivated. I always have been. I also have a sick love of deadlines. I set my own and then try to beat them.
Which authors have influenced you over the years, whether for their writing or for their friendship?
I have a great group of friends. We call ourselves Romance Unleashed. (
www.romanceunleashed.com
) All of us started around the same time with Zebra. We write in all different subgenres of romance, and now for different publishers, but our friendship is still strong. Having a group like that where you can be yourself and truly celebrate each others successes is definitely the best support any writer can have. I love them.
On a more direct writing influence, there are a lot of writers. I read the three big genres: mystery, romance and fantasy. I think I put elements of all three in my books.
What's coming up in the near future for you? What books can readers expect to see?
In January 2008, Guardian's Keep, Kelly's story will be released as part of the Silhouette Nocturne line. Sometime later in 2008 watch for Venge's story. Right now the working title is The Wild Hunt, but that may change. Outside of Nocturne, I'm also working on an urban fantasy with modern day Amazons and a number of light paranormal romances. Readers can stop by my web site
http://www.loridevoti.com
to learn
Thank you, Lori!
Be sure to check out Lori's website at
http://www.loridevoti.com
and head on out to a book store and pick up your copy of Unbound.