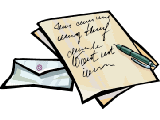 Okay, here's the deal. It is called MISSING VOWELS game. These are all romance titles and the vowels are missing. You fill in the vowels and email Patti at fisc40pa@aol.com with the answers. Put Tuesday Trivia in the subject line.
I separated the words using /
The winner will be announced tomorrow night...so...get busy! You have until 11pm Wednesday night to complete it. I will put all the ones with the right answers in a pot and draw one lucky winner to pick out one of the books I have. The book list is below.
1. S-T-SF-CT- - N / G- -R-NT- -D
2. BL- - / SM-K-
3. D-RK / L-V-R
4. TH- / S-CR-T / T- /S-D-CT- -N
5. B-D / B-YS / T- / G-
6. N-T / Q- -T- / - / L-DY
7. L-RD / S-N
8. T-MPT / M- / T-N-GHT
9. CL-S-/ -NC- -NT-RS / -F / TH- / S-XY / K-ND
10. D-RK / S-D-CT- -N
List of books to giveaway:
NOTHING TO FEAR by Karen Rose
THE SECRET PEARL by Mary Balogh
THE KEPT WOMAN by Susan Donovan
FIRST LOVE by Julie Kenner
MY BIG FAT SUPERNATURAL WEDDING anthology (Kenyon, Harris and Butcher, plus more)
EX AND THE SINGLE GIRL by Lani Diane Rich
A FARE TO REMEMBER – anthology with Vicki Lewis Thompson, Julie Leto and Kate Hoffmann
UNDEAD AND UNRETURNABLE – MaryJanice Davidson
WHO'S BEEN SLEEPING IN MY BED? Gemma Bruce
WILD RAIN Christine Feehan