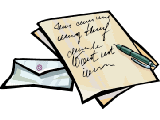 Something new I'm going to try out.
TRIVIA
I'm going to post ten scrambled romance authors and you send me your answers for a chance at winning a .... $10 gift card from Walmart! I will announce the winner on Sunday night. One entry per person.
Here you go:
1. ILELES YELKL
2. AIDNL RODWAH
3. ELSLTA RCNMAOE
4. RREHNLYSI YKOENN
5. TBZEEAIHL WLLLEO
6. LHHSOI LWRKEA
7. RNELROAI TAEHH
8. AORN TRBOESR
9. FJRENNIE YLHAES
10. LIUAJ DNNOOL
Email your guesses to... Patti at fisc40pa@aol.com and put Tuesday Trivia in the subject line.
Good luck!