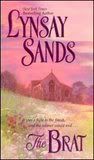 THE BRAT –
Lynsay Sands
Leisure Books
ISBN: 978-0-8439-5501-9
May 2007
Historical Romance
England, 1351
After her parents died, Lady Murie Somerdale, goddaughter of King Edward III, was moved to court where she quickly garnered the king's favor. However, her new status made her a target. Along with the king's affection came contempt and spite from jealous courtiers. To cope, Murie devised a scheme to become an enfant terrible, throwing outrageous tantrums and fits. Soon, nobody wanted to bother "The Brat," as she was dubbed.
Now, ten years later, Murie has successfully managed to remain relatively unscathed by all the viciousness played out at court. Unfortunately though, when the king decrees it is time for her to marry, few men want to be saddled with a spoiled brat. However, there is Lord Balan of Gaynor, a handsome but impoverished knight who has proven his loyalty to the king on the battlefield many times. Murie feels certain he is destined to be her husband, and with the king's approval she quickly finds herself married to Balan and on her way to a promising new life; one away from court and one with a good man who makes her heart race and her knees weak.
Balan is vexed that he must attend court and find a rich wife. He abhors court life and he is uncomfortable talking to women, let alone wooing them. But he returned from England's latest campaign in France to find his home devastated by the plague. Almost half the servants and villagers at Gaynor, along with his father, died from the disease, and most of those that survived were lured away by the promise of a better life on other estates. There really is no alternative for him, but the idea of marrying The Brat is unappealing to say the least. That is, until Balan unexpectedly learns that Murie's behavior is all an act. Still, he would have no chance to win her hand if it were not for a devious scheme he stumbles upon concerning Murie. Before she even learns of the plot, he saves her from harm and in so doing captures Murie's attention. Balan should disabuse her of the notion that they are fated to be together, but she really is lovely and his desire for her is quickly growing. But can Balan survive marriage to The Brat? Although Murie is nothing like her reputation, it becomes evident that not everyone is satisfied with the match. On the way to Gaynor after their wedding, several near fatal accidents leave him in no doubt that someone wants him dead. Now Balan will not only have his hands full trying to restore his estate, but he must also discover who his dangerous new enemy is before anything happens to either him or his new wife, who, it seems, has already stolen his heart.
The first comment I must make about THE BRAT is to say ignore the title and read it anyway. As unappealing as the name is, the story is all one could hope for in its romance, humor, and charm. Endearing characters will captivate readers and a fun-filled adventure will hold their attention from beginning to end.
Balan is an irresistible hero. Although he's a confident warrior on the battlefield, he's shy and tongue-tied around women. His attempts to win Murie early in the story go a long way to charm her and make readers come to care for him too. There were times when I found myself sighing over Balan and his treatment of Murie, or chuckling out loud over his efforts to woo her. And this wit and charm does not end with Balan. The humor permeates the entire story. Thank goodness Murie is not really a brat but a kindhearted woman. However, she is also extremely superstitious. Her efforts to save her new husband from danger by finding good luck charms or following certain superstitions are as delightful as they are exasperating to Balan. Their relationship is full of warmth and passion and is strengthened by the harrowing experiences they face together. Not only does Ms. Sands do an excellent job of delivering a warm romance, but a suspenseful mystery as well. There is more than one suspect behind the attempts on Balan's life, but twists and turns in the tale will keep readers guessing about the villain's true identity until the end.
With its lively plot, well-defined characters, and emotional romance, THE BRAT is a title I highly recommend.
Sandra Brill