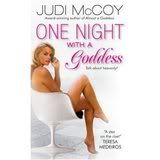 ONE NIGHT WITH A GODDESS - Judi McCoy
Goddess Series, Book 2
Avon Books
ISBN: 978-0-06-077460-8
ISBN-10: 0-06-077460-6
May 2007
Fantasy Romance
Mount Olympus - Eternal Time, and Chicago, Illinois - the Present
Zeus has sent his daughter Chloe, the Muse of Happiness, to the mortal realms for one year as punishment. If she does her job right, she may return to Olympus for an eternity of posh living. Her options are very limited, plus she is warned not to fall in love with a mortal. She can keep in touch via email, now the main modus operandi of the gods.
For her year with the mortals, Chloe has landed in Chicago. She works hard for Belle Castleberry as her assistant at Castleberry Hall, marketing and planning weddings, showers, and various meetings to take place in the hall's gracious rooms. Her success shows, but during her tenure, she has developed a very close relationship with the octogenarian boss, taking over most of the business operations and making sure the business thrives. The hard part will be breaking the news to Belle, the housekeeper, Ruby, and the gay catering chef, Clark, that she is leaving very soon. All her handshakes and wishes for happiness to just married couples, brides-to-be and mothers-to-be plus the Optimist Club must be making big marks with Zeus, which will insure her return to Mount Olympus's eternal paradise. Chloe is sure ONCE Belle's surgeon grandson returns, he won't want to continue the business, but there is a lucrative offer for purchase waiting, which will leave Belle and Ruby the chance to retire very well off.
Returning home a month earlier than expected from his two years with Doctors Without Borders, Matt Castleberry is exhausted and scarred, his not so handsome face streaked with the slashes from an attack. At home he finds a beautiful blonde inhabiting his bedroom [who refuses to leave]. He suspects Chloe Degodessa of somehow swindling his grandmother through her business. He cannot discover anything, however, except how perfect and alluring Chloe is. As she insists she must leave, he becomes equally determined to make her stay.
You forget the fantasy part of ONE NIGHT WITH A GODDESS, although it is always there, and you think you are reading a light-hearted contemporary romance. You will enjoy each of the kibitzing characters who are wonderfully charming in a down-to-earth way. Everything seems so very real and reasonable. Matt is a wonderful hero, caring and giving, as his stint with Doctors Without Borders in Africa proves. He loves his grandmother and will do whatever it takes to make her happy, and the continuation of Castleberry Hall is what she wants. After the horrors of Africa, Chloe is a healing balm for his wounded soul. She is a goddess, after all. But how could a mere mortal ever change her path? For she must return to Zeus, and that means forgetting about Matt. Once you read this novel, you'll want to read the first in the series if you haven't already. Each is a stand-alone, but great stories like these aren't to be missed.
Book one of the Goddess series, ALMOST A GODDESS, released May 2006, is in the RRT 2006 Archive under Fantasy/Sci-fi Romance Reviews.
Robin Lee