The winner of the trivia game is....BARBARA VARS!!!

Watch here tomorrow night for an interview with Toni Blake
and
a giveaway...of TEMPT ME TONIGHT, her June release!
****************************************************************************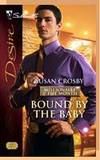 BOUND BY THE BABY –
Susan Crosby
Millionaire of the Month
, Book 3
Silhouette Desire #1797
ISBN (13): 978-0-373-76797-7
ISBN (10): 0-373-76797-8
May 2007
Contemporary Series Romance
Lake Tahoe, California – Present Day
Four months ago, Devlin Campbell met his lady luck in a casino in Atlantic City. Not only did he do well at the tables, but he also spent one fabulous night with the lady he nicknamed "Ms. Fortune." Now he's at Lake Tahoe, staying in a lodge as a condition of a will left by a late friend. Out for fun and a bit of distraction in a casino, imagine not only his surprise to find his one night stand working there, but that she's pregnant. Did their night together provide a little dividend?
Nicole Price never expected to meet him again. But here Devlin is and demanding to know if he's the father. Learning that he's in the area for a month, Nicole is understandably nervous as to what Devlin's intentions toward her are. He says he wants them to marry, but Nicole doesn't want to marry just for the sake of their child. She learns that he comes from money, while she's a single, working class woman, so their lives are worlds apart. No matter how much she tries to shake off Devlin, he's there, wanting to be part of her life. Who will win the battle of wills? Can a couple who started out strangers ever have a chance at happiness together?
As implausible as it seems, Devlin and Nicole never exchanged names that night, and he never knew she worked for the casino resort company. Devlin feels as though he is now at a crossroads in his life as a member in the family banking firm with no say in how it's run. He wants to leave, but can he leave a sure thing? Then Nicole reenters his life, along with the little expected bundle of joy she's carrying. She provides him with a new reason to live and to look to the future. The hardest part is convincing her they are meant to be together.
Nicole is still recovering from the loss of her mother five months ago. She moved to Lake Tahoe to be near her father, and when Devlin proposes that she drop her life there and move back east, well, can you blame her for balking? Especially when he neglects mentioning the one thing she wants more than anything: love. Can she let herself be taken over by Devlin and have no say in the matter? Is she "bound by the baby" to have her decisions made for her?
The third book in The Millionaire of the Month series, readers continue to gain insight into how Hunter's death affected his friends from college, tearing them apart but then bringing them back together…and each is finding love high up in the mountains. Three more stories remain, and I can't wait to read them.
Susan Crosby has superbly penned a tale of a man and a woman who come together to not only create a baby, but who find each other under what cannot be described as the best of terms. Will they succeed and live happily ever after? You'll have to find out in BOUND BY THE BABY. Don't miss this riveting story.
Patti Fischer