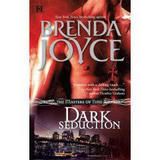 DARK SEDUCTION - Brenda Joyce
A Perfect 10The Masters of Time,
Book 1
HQN
ISBN: 978-0-0373-77233-9
May 2007
Time Travel Romance
New York - Present Day & the Scottish Highlands - 15th Century
The blood of the ancient gods runs in his veins. He is Malcolm of Dunroch, a newly chosen Master sworn to protect the innocent and fight evil. A mistake in his past that left a young woman dead, makes Malcolm vow never to be tempted by the dark lust inside him again. Then he is forced to travel to the future in search of a page from the ancient Cladich. There he meets Claire Camden -- a woman who tests his faith, his honor, and his vow to protect the innocent.
The sole proprietor of a rare bookstore, Claire Camden has rarely taken time off since she opened the store five years ago. But her long awaited vacation to Scotland has arrived, and she cannot wait to go. As she's packing, she hears a knock on the door of the shop downstairs. Living in a large city, and having lost both her mother and a cousin to pleasure crimes, Claire is extremely cautious. When she refuses the woman outside entrance, the woman breaks in and demands that Claire give her the page from the Cladich. Claire has no idea what the woman is talking about. The woman, Sibylla, says they've met, but Claire has never seen her before, and before she can question her, Sibylla knocks her out. When Claire awakens, her troubles are not over -- now a man dressed as highlander is in her shop, and he too wants the page from the mysterious Cladich. But unlike Sibylla, Malcolm of Dunroch does not engender fear in Claire -- but intense lust. When they cannot find the page, Malcolm tells Claire she must come with him; she is his "innocent" and he must protect her. Sucked into a painfully whirling vortex, Claire blacks out and awakens writhing in passion beneath the sexy highlander. It's not long before Claire realizes she's no longer in New York -- she's not even in her own time but in 15th century Scotland.
From the moment that Claire and Malcolm meet, evil stalks them. As they try to find the missing page of the Cladich, they must fight deamhans and the devil himself as well as the potentially deadly lust that lives and breathes between them. Can an ancient Highland laird with supernatural abilities and a mortal bookseller from the 21st Century find a way to bridge the gap between them and stop the evil that threatens the world, or will they die trying?
Dark, dangerous, and sinfully seductive describe not only Joyce's latest novel, but her latest hero as well. Malcolm is a man of great power tempered only by his vows and his honor. He's arrogant, passionate and so sexy the testosterone fairly oozes off the pages. Reminiscent of some of Ms. Joyce's most memorable historical heroes, Malcolm is a character who is completely unforgettable. Claire is a modern day independent woman able to take care of herself despite her fears. When she is thrust back in time, she at first fears for her sanity, but it's not long before she realizes that if she wants to survive to return to the modern world and her family, she will need to learn all she can about the past. As a bookseller and a historian, Claire decides that this is the chance of a lifetime and tries hard to look at her present situation as an opportunity few scholars have. However, her attraction to Malcolm and the almost uncontrollable lust she feels for him frighten her. She fears to give into the physical attraction because her heart will surely follow. Secondary characters are many and as varied in personality as real people. Malcolm is not the only Master in 15th century Scotland, anywhere or anytime; there is an entire group of Masters imbued with supernatural powers to fight evil. All Masters have the ability to "leap" and they often leap to the present or the past when chasing the evil creatures that prey on the innocent. The relationship between Malcolm and Claire is passionate, erotically passionate, and heartbreaking -- each fears to love the other for different reasons, yet the reader can feel the love that builds between them.
A fast pace, a captivating couple, and a compelling plot make DARK SEDUCTION a stellar read. As the first book in a new series, the author has set the bar extremely high for future books. It's been years since I've fallen in love with a couple the way I have with Malcolm and Claire. I cannot wait for DARK RIVAL, the next book in
The Masters of Time
series to be released in October 2007. If you love the Highlands, Highland lords, and tales of good versus the ultimate evil, you will not want to miss DARK SEDUCTION, one of the best books I've read this year, and an RRT Perfect 10.
Terrie Figueroa