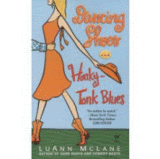 DANCING SHOES AND HONKY-TONK BLUES - LuAnn McLane
A Perfect 10
Signet Eclipse
ISBN-13: 978-0-451-22103-2
ISBN-10: 0-451-22103-6
May 2007
Contemporary Romance
Misty Creek, Kentucky – Present Day
When a dance reality TV spoof show decides to showcase the citizens of Misty Creek, Abby Harper suddenly finds herself on national TV. The show is called Dancing with the Rednecks, and Abby and her fellow townspeople are advertised as the epitome of redneck behavior. Will the show turn into a parody that embarrasses Abby, or will she just dig in to try to win the $50,000 grand prize? Once she meets her dance instructor/partner, Abby's heart goes pitter-patter. Rio Martin is handsome, suave and not too happy to find himself in the middle of hillbilly country. But the smoldering chemistry between Abby and Rio burns on the dance floor…and off.
Abby doesn't figure she'll go far on the show, but under the close tutelage (very personal, I might add) of Rio, she blossoms. With each moment spent with Rio, Abby falls deeper in love. Rio is charismatic and darkly romantic and learns that life in Misty Creek isn't all that bad after all. Abby and Rio have to dance the best they possibly can, since the competition is pretty darn good. Throw in Rio's ex-love, who's determined to win him back as well as the contest, and the stakes rise.
Minor characters besides Rio's ex, Angelina, include: Julia and Danny, high school friends of Abby's who compete against each other in the game of love; trucker Mac Murphy, who proves to be light on his feet despite his bulk; Mary Jane, who has a bit of a problem about keeping her body in control while dancing; and Abby's mama, who owns a real redneck diner and attracts the attention of the show's producer. There are many other characters and not enough space here, so you'll have to read to see how they contribute so richly to the story.
A hoot a minute, DANCING SHOES AND HONKY-TONK BLUES is a send up of that other dance show and nails an RRT Perfect 10 from this reader. Even if you aren't a dance fan, you can relate to the down-home charm of Abby and her fellow Misty Creek citizens. For me, the pages flew at an alarming rate, because I didn't want to stop reading. LuAnn McLane shows her talent for tongue-in-cheek prose and situations. DANCING SHOES AND HONKY-TONK BLUES could have ended up a slapstick comedy with characters with little appeal, but Ms. McLane brings heart and soul -- as well as humor -- to a tale that richly deserves to be put at the top of any reader's book buying list.
With sexy wit and characters who have you falling in love with them, DANCING SHOES AND HONKY-TONK BLUES is a winning tale not to be missed.
Patti Fischer