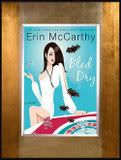 I am absolutely thrilled to have Erin McCarthy as my guest. I've watched Erin's career since she first vaulted to the frontburner in Lori Foster's Brava Novella Writing Contest and into a contract with Kensington Books. Since that time, Erin has parlayed her books onto the best-sellers list.
And this year...it finally notched her a RITA nomination! WTG Erin!
Without further ado...here's Erin!
1. What is the title of your latest release and what's it about?
My latest release is BLED DRY, out this month! Bled Dry is the third book is my Vegas Vampires series, and features Brittany and Corbin. Here's the back cover copy:
Hooking up with a vampire has its risks-but getting pregnant usually isn't one of them. Tell that to Brittany Baldizzi, who finds herself in the family way with no father in sight. After their one night of passion, vampire Corbin Jean Michel disappeared off the face of the earth-or at least off the Vegas strip...
Corbin is a vampire with a cause, secretly trying to find a cure for his condition. But when he finds out Brittany is pregnant with his child, Corbin can't keep his parental instincts from trumping his bloodsucking ones. Even when showing his hand could cost him the woman he can't help but love...
2. How did you come up with the idea of writing vampire stories?
You know, I like to read paranormals, and I think that taking something normally so dark and ominous like vampires and death and adding a bit of humor, really appealed to me. I was just going to write one vampire book, to see how I felt about it, and the characters really grabbed on to me. There are now four books total in the series, and I've had a blast writing them.
3. Which authors have influenced you over the years, whether for their writing or for their friendship?
Lori Foster without a doubt. She took me under her wing from day one, and we've become great friends. I greatly admire the way she approaches the business.
4. Is there another genre you would consider writing in?
Now that I'm doing comedy, dark paranormals, and young adult books (under the name Erin Lynn), I've really explored all I want to at the moment. I'm having trouble fitting it all in as it is, and I don't want to give any of them up. :-)
5. What's coming up in the near future for you?
In September, my first dark paranormal, MY IMMORTAL, comes out. This will be in regular paperback size, instead of trade, and features Damien du Bourg, a man who has bartered for immortality, and in exchange must encourage lust in human women. It's dark and sensual, with a southern Louisiana setting. I hope readers will like my dark side!
Then in December, the fourth book in the Vegas Vampires series will be out, SUCKER BET. This is Gwenna's story.
Thank you, Erin!

You can visit Erin at her website: ErinMcCarthy.net
Read RRT's review for BLED DRY by clicking here.