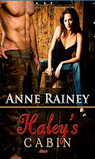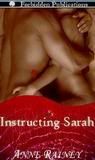 I've known
Anne Rainey
online since before she was
P
ublished
A
uthor
A
nne
R
ainey.
As you can tell from her interview, she's very excited to be published and has some exciting news to tell everyone. If you haven't read
Anne Rainey
, what are you waiting for?
I love the cover for Haley's Cabin! You can read the review RRT Erotic did for Haley's Cabin by clicking
here
.
Without further introduction, meet Anne Rainey:
What is the title of your latest release and what's it about?
My current release is titled,
Haley's Cabin. It sat on the Samhain
Bestseller list for 4 solid weeks!
Here's a little about that story:
Raw from an ugly divorce and wrung out from her demanding job, Haley
Thorne needs a break. When Haley's doctor urges her to take a vacation, she
heads to her secret cabin in the woods. The very first night, Haley dreams
of an erotic threesome that leaves her panting and aroused. When sexy police
detective Jeremy Pickett shows up at her door, she's shocked: He looks like
the man in her midnight fantasy! Levelheaded Haley unleashes her inner
seductress and has a little fun-handcuffs and all!
Also, coming to
Forbidden Publications May 11th is my short story titled,Instructing Sarah.
Here's a little about that spicy tale. ;-)
Greg Stiles craves his neighbor, Sarah Templeton. He figures she
should've been named Sarah Temptation. So far, he's been a good boy and kept
his distance. When another man moves into their complex and starts sniffing
around Sarah, Greg's honorable intentions fly right out the window. It's
time to show Miss Templeton just how good he can be.
Sarah isn't ashamed of her virginal status, just tired of it. She's
always wanted a husband, kids, and the white picket fence. Those dreams seem
forever out of reach. So when her hunky neighbor asks her out on a date, she
jumps at the chance. She's watched him. Wanted him. Now she'll have him.
Problem is, how does she keep him?
How do you come up with ideas for your stories?
Usually some insignificant thing I see or something someone says. It's like
a seed, it slowly germinates and eventually a story is formed. Haley's Cabin
started out as a single scene. I was playing with the idea of a threesome,
things took off from there. Big time! LOL
I got the idea for Instructing Sarah after hearing a girl complain about
losing her virginity, it hadn't been at all a good experience for her. I
really wanted to show this girl how beautiful the experience can be when
it's with the right person. Thus, Sarah Templeton and Greg Stiles were born.
Which authors have influenced you over the years, whether for their writing
or for their friendship?
Wow, that's a long list, lol! I will try and narrow it down some.
Hmm, the first person that springs to mind is Lori Foster. She's been a
great inspiration to me. First because of her excellent stories. No one does
romance quite like Lori. Her characters are real people and I always find
myself drawn to them and their situations. Second, because she's been so
generous to new authors, sharing her insights into the world of publishing.
A few others include Lucy Monroe and Janice Maynard. Their terrific stories
and welcoming attitude is why I love this business so much. Also I do want
to include a couple of close friends, Jen and Pat, because they've kept me
from tossing out my keyboard and giving up...more than once! LOL
Writing can be a lonely job, how do you stay motivated?
My husband, my kids and my mom keep me motivated by constantly letting me
know how proud they are of me for pursuing my dream. Their support is the
best sort of motivation! Also, I'm part of a yahoo group called The Romance
Bistro. This is where I and several other authors post excerpts, contests,
and chat with readers. The interaction with all the friendly folks there
keep me pumped. Plus they're fun to hang with when I'm not working. ;-)
Looking at the crystal ball, tell us what's coming up in the near future for
you?
Well, I have a few short stories coming out this summer and I hope to have a
few more later in the year as well. Stay tuned to my website for updates on
that. There is one bit of exciting news I'd love to share. My erotic
romance, Scandalous Behavior, comes to Red Sage Publishing in 2009. In
print! I can't wait! I love the Secrets Volumes and I'm thrilled to have one
of my stories in one.
Thank you, Anne! Be sure to check out Anne's website:
www.annerainey.com
*********
Note on the contest: so far, here is the list of people I have in the running for the $10 Walmart Gift Card. If your name is not there, resend it to me. I will probably update
this
list Saturday night.
Jodi S
Jackie
Sandi
AmyS
Barb V
Cryna
Crazy Mo
sauble
bencanada1
Lisa F
Crystal
Maureen
Bookwarm1956
added Saturday night:
Vixen.anya
SueAnn
Kim H
rojosho