..........Jackietoo!!!!!


Congrats, Jackie! Email Patti at fisc40pa@aol.com with your full name and address where I can mail your book to.
*********
If you like Lisa Kleypas, then you might enjoy Jill Shalvis. Here's what Amy has to say about SMART AND SEXY: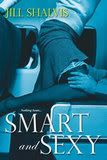 SMART AND SEXY – Jill Shalvis
Sky High Air Series,
Book 1
Brava
ISBN-10: 0-7582-1445-6
ISBN-13: 978-0-7582-1445-4
April 2007
Contemporary Romance
Mammoth Mountain, Utah; Cabo and Baja, Mexico – Present Day
If Bailey Sinclair's husband Alan hadn't already been killed, she'd murder him herself for getting her into this mess. Forced to hijack Noah Fisher's private plane so she can get to Mammoth Mountain to search one of her dead husband's posh resorts for money he'd stolen from his investors, Bailey can only groan at the hell she's landed in now. If she doesn't find that money, she's good as dead; and if she talks or goes to the police with this problem, she's just as dead. So now, scared and alone, Bailey holds Noah at gunpoint -- really a fat Bic pen -- and forces him to get her out of Dodge.
All Noah had anticipated on a trip to the mountains was a lot of relaxation, maybe a beer, some skiing, and a ski bunny of his own. He's been under a lot of stress lately and is only just starting to psychologically recover from a plane crash in Baja in which the woman he was dating died. That he'd been the pilot of that plane as well was a tough load to carry around on one's shoulders. It's just Noah's luck to be the victim of a "hijacking," and even more laughable is the fact that his captor is the very woman he has been lusting after for a while, Bailey Sinclair. It's obvious she's hiding something, and despite his hackles rising at being ordered to do something without reason, Noah is here for the long haul. Oh, and the gun she's pointing at him has a lot to do with it, too.
Upon arriving at Mammoth Mountain, it quickly becomes obvious that there are some heavily-muscled goons after Bailey, but she's still not offering any excuses as to why. It becomes a high-speed chase on a snow-covered mountain, and Noah and Bailey only have their wits and her harebrained plan to find whatever it is she's looking for. She's still not talking, and Noah is only now envisioning ways for revenge when he finds out she held him up with nothing more than a pen. Overtaken by a woman -- with a pen! Things really start to heat up when shock and stress overtake Bailey and she succumbs to a bit of frostbite. The only place for them to hide out now is the cabin Noah rented for his trip, and while he had plans for any ski bunny he could find, Bailey takes center stage as his fantasy come true. Now if he can just get her out of her frozen, wet clothing and warmed up...
The first in a new series, Sky High Air, Jill Shalvis excels yet again by thrilling, titillating, and enchanting in a way only she can do. A long-time fan of her work, I knew I was in for an exciting ride when I started reading SMART AND SEXY. The title is an apt description of both the book and the hero and heroine, Noah and Bailey. There is more than meets the eye with Bailey Sinclair; a widow who has always been painted as arm candy for her rich player husband, Bailey pines for what she does best -- teaching. You'd never know she thrives in the classroom by the classy, cool persona she puts on for the public. But Noah, despite his lust for her perfect butt and the legs that support that tush, knows that Bailey is a lot more than fluff and designer clothes. Other than the fact that she hijacked him -- with a pen! -- Bailey has always been sweet and seemed to have more conscience than Alan Sinclair ever gave her credit for. So, SMART AND SEXY is testament to the old adage, "never judge a book by its cover," but it also oozes sexual tension, ultra-high romance, and blows away the Richter scale for suspense and danger.
Get in on the bottom rung with Jill Shalvis's
Sky High Air
series and be sure to check out SMART AND SEXY, new this month from Brava. STRONG AND SEXY will be out in December of 2007 -- that's....over...seven....long....months....away!
Amy Cunningham