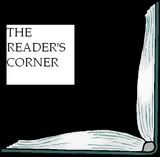 Name:
Kim H
What are you currently reading?
Naked Truth by Amy Fetzer
What is your favorite romance genre (contemporary, historical, paranormal, etc) to read?
Contemporary
Do you have a to be read pile and if so, how many book are approximately on it?
50
If you could sit down and have lunch with five authors, dead or alive, which five would you like to be sitting there with you?
Vicki Lewis Thompson, Leslie Kelly, Alison Kent, William Shakesphere, Stephen King
Name a book (and its author) that you've read recently that went on your keeper shelf.
The Heartbreaker by Carly Phillips
*******
Also, be sure join me in the chat room this coming Friday (Yes, Friday the 13th!) at 9:30PM EST (6:30PM PST) when we chat with Stephanie Tyler, the new Blaze author. Her new book is Coming Undone and is out
NOW.
Bookmark the chat room:
RRT Chatroom