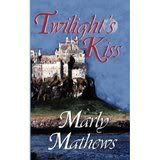 Today I have an author that I'm sure many readers haven't heard of, but one who you certainly will in the very near future.
Marly Mathews!
How can you not like stories filled with fantasy, paranormal, set in Scotland, vampires, faerie princess. I think Marly put everything but the kitchen sink in Twilight's Kiss. :) Plus, she writes historicals.
Sit back and meet...Marly Mathews!
1.What is the title of your latest release and what's it about?
The title of my latest release is Twilight's Kiss. It's a fantasy paranormal romance set in Scotland, present day. The hero is a cursed vampire and the heroine is a faerie princess, who moonlights as a Huntress of Hell. Her alter ego is a romance writer…so it was pretty fun to write. The hero is a Scottish lord. He's over three hundred years old, so he's been around for a while. LOL It's available in ebook format from
The Wild Rose Press
and it's also available in trade size paperback.
It's listed on both
Amazon.com
and
Barnes and Noble
.
I also have a historical out with
New Concepts Publishing
, titled I'll Be Yours. This is an adventure romance on the High Seas. They were released within a month of each other so I consider I'll Be Yours to be a fairly recent release as well.
2. What is the hardest part of writing?
I'm a panster and I love to write, the hardest part I suppose is when I'm writing one book and the ideas for another book suddenly pop into my head. It's very annoying. LOL It forces me to take time out of writing that project so I can jot down the ideas for the 'new' project, then it's back to the current one again. Sometimes, I find myself juggling a couple of books at any given time, which can be a blessing and a curse.
.
3. Do you get goose bumps seeing your name on a book cover?
I get a thrill, I suppose. But I do like to see the title of my book with my name on the cover…so it's just not all about me. It gives you a sense of accomplishment. Which is very nice.
4. What do you do for fun in your spare time?
What spare time? LOL
Seriously though, I read, I watch T.V. and movies. Listening to music is a favorite pastime, baking. And, my Yorkies are always up for some playtime. J They are little bundles of energy…which is good because at least I get some activity out of it. As a writer I do spend a lot of time sitting in front of a computer screen, whether it's writing, sending emails, doing chats, taking part in our online RWA chapter activities, RWA Online, or numerous other online business. So it's good to take a break and get out of the chair once in a while. :)
5. What's coming up in the near future for you?
Only good things, I hope. I've recently signed another contract with
The Wild Rose Press
for my fantasy paranormal romance, My Lady Knight of Avalon. It's a time travel romance, since it starts off in present day, and the heroine and the hero time travel back to the golden age of Camelot in order to save the future.
Here is the blurb,
My Lady Knight Of Avalon by Marly Mathews
She was King Arthur's daughter. Once known as Princess Mary Pendragon, fifteen hundred year old immortal warrior witch, Molly Pendleton is on a quest to stop time from unraveling into a dark and terrible future. With Merlin's help she will time travel back to the golden age of Camelot and come face to face with someone from her future. He was the grandchild of her best friend. Collin Remington never dreamt that magic flowed through his veins or that he would become a knight of King Arthur's court. With evil quickly taking the upper hand in King Arthur's realm, Molly and Collin must fight against time itself. Will their love be enough to save the future?
I'm also an author in The Legacy of the Brooch series at
The Wild Rose Press
as well. I'll be writing the last book in the series, tentatively titled Journey's End for the faery rose line. Readers can expect some magic in this last installment of the series. It will have an early 2008 release date.
I have several other writing projects in the cooker so to speak, so check my website and blog for updates!
http://www.marlymathews.com/
http://www.marlymathews.blogspot.com/
Thanks so much for the interview, Patti!