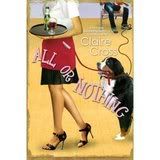 This time, we have the fabulous
Claire Cross
(aka
Claire Delacroix
) as our blog guest. Claire is witty, smart and a very nice person to chat with. She has a book out in April that looks very good. (I love the dog on the cover! LOL)
She was gracious enough to agree to an interview. Meet Claire!
1. What is the title of your latest release and what's it about?
My April release is the fourth and final book in the Coxwell series, called ALL OR NOTHING (by Claire Cross). It's the book of bad boy Zach Coxwell, the youngest of the siblings and the most prone to trouble. I not only wanted to write Zach's story but I wanted to give him an HEA, something that required his growing up a bit. I decided to give him a challenge he couldn't resist - a woman who apparently could resist his charm and one he couldn't make smile. Jen has a lot of reasons to be serious, but the two of them manage to find a middle ground that works for both of them. I had a lot of fun writing this book and hope readers enjoy it too. There's more info at
http://www.clairecross.com/current.html

2. How do you stay motivated?
I love telling stories. Whatever story I'm currently writing motivates me to get back to it and write the next bit. Then there are all the story ideas, waiting impatiently for their chance, that push me to keep going. I think you have to love writing and love storytelling to be a published writer - that passion keeps bringing you back to the publishing game. I'm happiest when I'm writing, so my family also pushes me back toward my office when I take a break!
3. Which authors have influenced you over the years, whether for their writing or for their friendships?
Oh, I've read and loved so many authors' works. I read incessantly as a kid, everything from Agatha Christie mysteries to THE LORD OF THE RINGS to the dictionary. These days I read a lot of non-fiction, for research as well as personal interest, and I particularly like fiction that surprises me. Lionel Shriver's WE NEED TO TALK ABOUT KEVIN was one of the books in recent years that really shook me up. I'm fortunate to have several very close friends who are writers, not all of whom are published writers, and we can have detailed conversations about characterization, plotting and publishing.
4. What is the hardest part of writing?
Writing is the easy part. Publishing is a challenge - that's partly because it's a business and writers tend to think of their writing as a passion, not necessarily in business terms. The other challenge of publishing is that as a writer, you're not right in the thick of things. As one writer acquaintance of mine says "there's no water cooler you can hang around to find out what's happening." You don't always know what's being discussed in the publisher's office, much less how that's going to affect you and your work. Changes tend to happen suddenly, maybe without any warning, and many authors find that difficult to deal with. You do get used to it, in time: the trick is to control what you can (i.e. by making the book as good as it can be) and try to forget about the rest!
5. What can readers expect from you in the near future as far as books?
I have two new trilogies in the works, although neither will begin before 2008. One is a series of contemporary fantasy romances featuring dragon shape-shifters and the women who love them - the first book in the "Dragonfyre" series will be out from NAL in February 2008. That series will be published under the name Deborah Cooke - you can find out more at
www.deborahcooke.com
.
I also have a future-set trilogy of fantasy romances coming from Tor, featuring fallen angel heroes in a post-Apocalyptic society. "The Prometheus Project" is a Claire Delacroix series and will begin with FALLEN in October 2008. There's more info on that at
www.delacroix.net
I'm working on several different contemporary romance/women's fiction projects for Claire Cross, but it's not clear yet which one will be released next. Watch my blog
http://www.rwaonlinechapter.org/Boards/index.php?automodule=blog&blogid=89&
or my Yahoo Groups
listserve
(chestwick@yahoogroups.com) for updates on all of my upcoming work.

Thank you, Claire!

You can learn more about Claire by visiting her website!