The winner of the ALLURING TALES anthology is.....Kim (and I think it is Kim H as there is a Kim W. too who did not win. LOL I drew Poster #11)


Congratulations and email Patti at fisc40pa@aol.com with your full name and mailing address.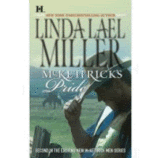 McKETTRICK'S PRIDE - Linda Lael Miller
A Perfect 10
HQN
ISBN-13: 978-0-373-77190-5
ISBN:-10: 0-373-77190-8
March 2007
Contemporary Romance

Indian Rock, Arizona - Present Day

When Echo Wells roars into town in her hot pink Volkswagen, sexy pink sundress, and pink hightops, Rance McKettrick is a dead man -- shot straight through the heart by cupid's arrow -- only he doesn't know it yet. Even his daughters fall in love with the free-spirited Echo Wells. Six-year-old Rianna loves Echo's pink car (it looks like a Barbie Doll's car), and ten-year-old Maeve is captivated by Echo's newly adopted white Labrador retriever, Avalon. Poor Rance doesn't even know who or what Barbie is, and he constantly denies his girls' requests for a puppy; he has no time for such nonsense! Rance loves his daughters, yet has no idea how to be a father, putting all his energies into McKettrickCo, the family business. Spending most of his time out of town, he's come to rely heavily on his mother-in-law, Cora Tellington, for his daughters' care since his wife Julie died five years ago. And even though Rance knows he should spend more time with Rianna and Maeve, he just can't tear himself away from the all-important business of McKettrickCo. Cora and his cousins, Jesse and Keegan, have tried to persuade Rance to slow down, but he won't listen, he just has too much of that famous McKettrick pride.

Echo Wells is a dreamer, but she works hard making a life for herself. Echo's search for a better life led her to pack up all her possessions, leave Chicago behind, and head to Indian Rock to open a bookstore. She knows what it's like to be abandoned and neglected, which is the way she found Avalon on a wet night, starving, and begging for a human touch. Echo is hoping to make a new start in Indian Rock, selling books and managing her online love spell business. In fact, Echo soon notices that one of her online customers is a Cora Tellington. Now why would Cora need a love spell? Well, Echo certainly doesn't want the residents of Indian Rock to discover that she mails out magic spells right next door to Cora's Curl & Twirl Salon! And that isn't the only little secret Echo keeps. Even little Rianna asked right away if Echo was her real name -- but that's one truth Ms. Wells will not reveal. No one will ever find out Echo's real identity; she left that skeleton locked tightly in a closet in Chicago.

Welcome back to Indian Rock, Arizona in the second book of The McKettrick Men trilogy! McKETTRICK'S PRIDE is absolutely the ultimate love story! Rance is proud and hardworking, but he's totally at a loss around his daughters. He loved his wife Julie, yet in his determination to provide a good home, he fell into the trap of all work and no time off, leaving Julie alone to her own devices. His guilt over her death wars with his stubborn pride, and he's incapable of stopping and seeing his family life for what it really is. It takes Echo's optimism and her pure love to remove the blinders from his eyes. Rance knows it's just a matter of time before he and Echo make a physical connection; whenever they're together, the air sizzles while the rest of the world melts away. But Echo refuses to even think about bonding with the handsome Mr. McKettrick. Oh, she feels the attraction and the electricity, but she will not get involved with a man who doesn't have time for his own family, let alone a relationship. When Echo falls in love, she wants it to be returned tenfold!

Cousins Jesse and Keegan McKettrick from McKETTRICK'S LUCK (Book 1, February 2006) appear in this story, but this tale flies solo. Besides Rance and Echo, Rance's daughters, Maeve and Rianna, and Cora Tellington are the major players in this book. Describing the multitude of secondary characters would take lots and lots of space, so instead, I can sum them up with just a few words -- each and every one of them clamors for a book of their own! Ms. Miller's magic pen gives us well rounded people who jump right off the page to sit on your shoulder. Indian Rock and the McKettricks are a source of good down home tales, and I hope to see more stories about them. The final book in this series is McKETTRICK'S HEART, coming next month, April 2007.

McKETTRICK'S PRIDE is special. You will laugh, cry, be amazed...and feel the depth of sweet emotion as you read Rance and Echo's story. With sizzling, fairy-tale romance, tender tears, and a bit of magic, the pages of this book turn swiftly and leave us feeling a special joy mixed with sadness that we have to close the book at the end. McKETTRICK'S PRIDE is a Perfect 10 and a keeper! Don't miss this opportunity to visit Indian Rock and all the fabulous people who live there; you will be glad you did!

Diana Risso
Keep an eye out for more giveaways...and a new weekly feature beginning Tuesday.