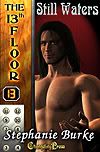 From
Changeling Press
:
STILL WATERS - Stephanie Burke
The 13th Floor
, Book 1
ISBN - 10: 1-59596-170-4
ISBN - 13: 978-1-59596-170-9
January 2007
Erotic Paranormal Romance
RRTE Rating: Multiple-Os
Johansen Blakeley is a coward who ran away from his responsibilities to his people because he couldn't stomach marrying a disgusting human. Unfortunately, his flight took him unerringly to a floor that doesn't exist in a building that was not his intended destination. Now, ensconced in a room on the 13th floor, with most every physical need provided for, Johansen is bored out of his mind, still trying to figure out how to get out. Then she walks in and the game changes...
STILL WATERS is an intriguing concept and not your typical erotic romance. The 13th floor exists for a reason and those who go there must discover their particular key to open the lock that will enable them to return to their lives. Although technically a prison, the torture is sexy, mind-blowing, and possibly world-changing for the incarcerated. Johansen Blakeley, a Fey Prince of the Water, learns that STILL WATERS do run deeper than he expects.
Phillipa Ann - 3/15/07