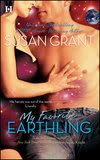 MY FAVORITE EARTHLING –
Susan Grant
Earthling series
, Book 2
HQN
ISBN: 0-373-77192-4
March 2007
Science Fiction Romance
Sacramento, California and the Planet Sakka – Present Day
Although he comes from California's version of the Kennedys, Jared Jasper has never felt the urge to enter politics. He's quite content with his career as a real estate developer and even does his bit of duty by serving as a fighter pilot for the National Guard. In fact, Jared just helped his younger sister, Jana, save the world. Literally. Unfortunately, Jared knows that their bluff of a fleet of spaceships ready to defend Earth just put off the inevitable. Out in space, the Coalition is at war with the Drakken Hoard and, in their quest to stay ahead of their enemy, the Coalition is "acquiring" planets, and Earth is on their wish list. Knowing his planet's in danger of a hostile takeover makes Jared wish he could do more to help. Jared gets his wish when he and his other sister, Evie, find an alien spacecraft that's crash landed on the family ranch.
Now, there's a universally accepted truth that men get a little excited when it comes to fast things…be it cars, boats, or alien spaceships. Jared is no exception, and with the call name "The Prince," he lets his aggressive, mouthy fighter pilot alter ego out to check out the inside of the empty craft. However, Jared gets a surprise when the view screen suddenly comes to life and he finds himself face to face with an alien female -- a knock 'em dead gorgeous alien babe threatening to do him bodily harm. There's only one thing for Jared to do -- let out the "Prince" and do some major trash talking. Hoping to scare off the Coalition once and for all, Jared announces himself as the Prince of Earth and tells the babe off with threats of Earth's might before shutting her off. That done, Jared heads back to his regular life…or so he thinks.
Meanwhile, on the other side of the galaxy, Queen Keira of Sakka, a living Goddess worshipped by trillions and the figurehead of the Coalition, is outraged and disturbed by the encounter with Earth's Prince. As the last of her line, Keira has lived in isolation since she was six years old when her family was killed. With the Drakken threat growing, Keira's advisors have been looking for a suitable consort for her, but each candidate seems to die or disappear. Faced with this new threat from Earth, the advisors decide that a treaty would be best. Of course, what better way to cement a treaty than to marry their Queen to Earth's Prince.
Faced with an entire planet pathetically grateful for his personal sacrifice, Jared really has no choice but to agree to the marriage. Truth be told, Jared hasn't stopped thinking about Keira ever since his little chat with her. So he really isn't a prince, but that would be his (and Earth's) little secret. Jared plans to make the best of his situation and woo his prickly bride. Of course, there's also a little matter of repeated assassination attempts and the ever present Drakken Hoard. Oh well, the road to true love never runs smooth.
Nobody does extra-terrestrials like Susan Grant, and she proves it again with MY FAVORITE EARTHLING, the second book featuring the Jasper siblings and the aliens who love them. He may come from a famous family, but Jared's really a regular guy at heart and that makes him the perfect match for Keira. Isolated for most of her life, Keira has been surrounded by intrigue and plots even as she is worshipped as a goddess across the galaxy. It takes an Earthling to truly show her how to live and love. Shakespeare's The Taming of the Shrew meets Star Wars (and yes, there even is a Darth Vaderish kind of villain) in this rollicking space adventure that will leave you hooked to the very end.
Isabelle Spencer
*************
By the way, for those of you looking for a fun chat, every third Saturday of the month Fatin hosts a TRIVIA chat in the
Romance Reviews Today
chat room. She gives away books as prizes, but the best part is the fun you'll have while playing!

Come join Fatin this Saturday (March 17th) at 9PM Eastern Time in the RRT Chatroom. You can reach it directly by clicking
here.