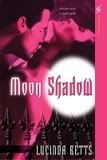 This month, MOON SHADOW by
Lucinda Betts
was released to rave reviews. Lucinda is always helpful and outgoing with readers and aspiring authors and definitely a fan favorite.
Enjoy our little visit with Lucinda:
"What is the title of your latest release and what's
it about?"
MOON SHADOW came out this month, and I couldn't be
more excited about it. RT gave it a 4-star review.
Fallen Angels made it a recommended read, and Road to
Romance gave it a critics choice award. Now I hope it
sells!
Here's my favorite quote:
"Ms. Betts' spellbinding pen dripped with carnality
and magic, unlike anything this reviewer has ever read
before."
--Road to Romance
Here's a summary of the story from Road to Romance:
Esmenet Sokaris is a gold level, spell casting wonder.
Her spells are used to help others, but her work is
never done and she needs an assistant to help her. In
casting a very sexy and hot spell to attract the right
assistant, Esmenet will find that she will get more
than she bargained for. For you see, her assistant
will have to be a male that will have sex with her
over and over again to procure that perfect potion for
helping her clients. And, with his assistance, she
might find something very special within herself.
Magic truly can happen, if one believes in the power
of love!
Gage Feldspar will be that perfect assistant, with all
the correct genetics to help Esmenet in her spell
casting. But, Gage has not had an easy life of late,
nevertheless getting a job, any job is what he
desperately needs. Some things happen for a reason,
and Gage will learn a valuable lesson by the hands of
a master—Esmenet.
Esmenet is a good person and she great at her job of
casting helpful spells to create potions that will
cure her clients, though she is a terrible
housekeeper. She cannot work without an assistant to
create the potions she needs and desires, so casting a
spell to attract him seems like the best idea.
When a slip of paper with a job for an assistant blows
into Gage's life, he is as down on his luck as a
person can be and it looks to be something he could
do. So, he applies using his low-level magic to
enhance his looks for Esmenet. She sees right through
his glamour, but there is something about him she
takes to and will give him a try.
Together, these two will have to overcome obstacles
and danger that will cross their paths. The sexual
chemistry between them is an inferno that keeps
igniting over and over again throughout the novel. The
spells they cast together are beautiful and erotic.
"How do you come up with ideas for your stories?"
Funny you should ask this. I'm holding a free workshop
on this topic at Charlotte Dillon's RWC loop starting
this Wednesday, March 14. It runs until the next
Sunday.
"What is the hardest part of writing?"
Computer games. When I get stuck or lazy, the siren
song of the computer game calls, and it's hard to
resist. But you should see my Super Collapse scores!
"How do you stay motivated?"
I make sure that I do a lot of fun things in my free
time so that I don't feel bitter while sitting in
front of the computer. I've been taking Salsa lessons
(yummy!) over the winter, and I just started with
yoga. I ride horses, and I spend a lot of time
plotting while driving back and forth to the barn.
That way I don't feel guilty for the time I spend
there. There's no hope for the guilt about the money I
spend on horses though!
"What's coming up in the near future for you?"
My next single title comes out in June. It's called
THE SUPPLICANT. Then I have a unicorn story coming out
as a single title next year as well as a centaur tale.
I'm in an anthology called EROS ISLAND with Devyn
Quinn and Dawn Thompson next year as well. That
novella is set on ancient Crete and features a centaur
hero.


Thank you, Lucinda!

Learn more about Lucinda by visiting her site at www.lucindabetts.com