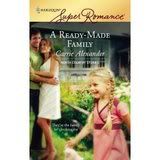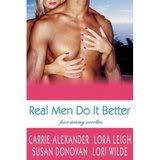 A super fun lady who happens to write super sexy stories,
Carrie Alexander
is my guest on the blog. If you haven't read one of her books yet, what are you waiting for? Whether you like them hot (Blaze) or emotional (Superromance) one can never go wrong picking up one of her books to read.
A little side note here: I picked up A READY-MADE FAMILY yesterday to read and am almost done with it. It just grabbed me from the first page. It is sooooo good. :)
In the meantime, get to know Carrie Alexander!
1. What is the title of your latest release and what's it about?
I have two books on the shelves right now. They represent two sides of me, sides I like to call "Good Carrie" and "Bad Carrie." LOL. It's kind of strange, switching between two such drastically different types of books, but I like the variety!
From Good Carrie is A READY-MADE FAMILY, the fourth title in my ongoing Harlequin Superromance miniseries, North Country Stories. It's a sequel to A FAMILY CHRISTMAS, the story of Wild Rose's best friend, Lia Howard Pogue, who arrives in Alouette, Michigan with three tired, cranky kids, no money and a junker car. Lia is on the run, and gruff ex-Army Ranger Jake Robbin offers her a place to stay. This is a realistic yet feel-good story, very family oriented, and definitely qualifies for the "sweet" category.
Bad Carrie is appearing in the St. Martin's Press anthology REAL MEN DO IT BETTER, along with Susan Donovan, Lora Leigh and Lori Wilde. I'm keeping nice company! My novella is "His Body Electric" and it's a sizzler of a story. You know how romance characters always have great electricity? Well, in this story, they really, really do. The hero is a lightning rod!
2. What made you decide to become a full time writer?
Naiveté! I had no idea how difficult it was to actually make a living as a full-time writer, so I plunged ahead and did it long before I should have. When you're starting your career (unless you make a huge splash right out of the gates as a few people do), the only realistic way to write full time is to have a huge cushion of savings to fall back on. At the same time, I'm rather glad I took the chance, because I may not have stuck with writing during some of the lean years if I hadn't really, really needed that next contract. I'm impressed by writers who manage to work day jobs while still producing books in their "off" time. That shows real dedication and a burning desire to write.
That being said, in many ways being a full-time writer is the most wonderful job ever. No panty hose! No schedules! No bosses! No office politics! No shoes! However, you also need discipline and drive not to get caught up in all that marvelous freedom.
3. How do you come up with ideas for your stories?
Imagination, of course. I'm not really one who scours popular news or listens in on conversations for inspiration, although there are often those elements to a book by the time it's finished. But mainly, my books are pure fiction. The ideas for them just seem to pop in my head at odd times--often while I'm deep in a deadline for another book, which can be frustrating because then I have to stop to take notes on my brilliant new idea. Or what seems brilliant at the time. I did have one book idea that came to me in a dream, about a woman who discovers a fairy trapped in a tin in her attic. That one never sold, even though it's one of my favorites. It just came to me too late to be hot on the market--apparently, fairies are past their prime. One other time I tried to sell an idea to Blaze that came from a news story about a woman being arrested for staging Passion parties, and that one didn't fly, either. So I'm sticking to my good old imagination from now on. It serves me well.
4. What do you do for fun in your spare time?
Read, watch TV and movies. I have a huge collection of my favorite movies, the accumulation is getting as bad as my TBR mountain range. I also like to swim and do a little gardening, plus trying to get back into art. I never have enough spare time to do it all.

5. What's coming up in the near future for you?
I have a Blaze and a Superromance out later this year, respectively MY FRONT-PAGE SCANDAL (the Martini Dares miniseries) and A TOWN CALLED CHRISTMAS. But the project that I'm most excited about is top secret. It's a single title trilogy from an idea I've had simmering for some time, which recently morphed into something totally different for me, in a sub-genre I've never touched before. I'm working on the proposal for it next month and hoping like crazy I can get it down on paper the way it's popping in my brain. We shall see!
Carrie, thank you so much for the interview. To learn more about Carrie, visit her website at www.carriealexander.com
Hopefully she'll get it updated soon. Don't worry, Carrie likes me anyway, even if I did just point that out. :D