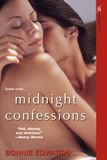 Bonnie Edwards
is always a lot of fun to chat with! March marks the release of Midnight Confessions, a totally entertaining story that weaves a contemporary setting with paranormal elements, historical overtones, along with it being an erotic romance, including a heroine who has to choose between two men.
Meet Bonnie Edwards:
1. What is the title of your latest release and what's it about?
My latest release is this month's Aphrodisia, Midnight Confessions. Faye Grantham inherits a former bordello, a rundown Victorian mansion called Perdition House. Fond memories of her great-Aunt entice her to stay in the home so she can ponder the state of her relationship with her fiancé. Problem is, some of the women who once lived and worked there haven't left yet. The spirited wenches tweak Faye's libido and give her their Midnight Confessions of lust, love and loss. Faye's dreams intertwine with her own love life and she must choose between two great men as the spirits of Perdition tell their ghostly tales. My editor thought the title Midnight Confessions was perfect and I agree! A kind of "if walls could talk" confessional.
2. What is the hardest part of writing?
The hardest part of writing for me is that second draft, I think. I'm never convinced the ending is right. I fuss and rearrange scenes, cutting some and adding others. I also have to develop characters more deeply which, in turn means more rearranging. And STILL the ending won't feel right until I get to the end of the fourth draft. Try as I might to speed up the process, I'm a four-draft writer. I've had to accept that over the last year. *But* when I hit on the exact perfect ending it's a high like no other. It just takes four drafts to get there.

3. Which authors have influenced you over the years, whether for their writing or for their friendship?
At this point, I'm a member of a foursome of writers who meet 4 times a year in a beautiful spot for writing retreats. We work, we brainstorm, we laugh...a lot...there have been times I've cried and been frightened by a story I'm dying to write. I've been encouraged and kicked in the behind. I like to think I've done my share of encouraging and behind kicking. The other three writers are some of the best damn storytellers on the planet. They are E.C. Sheedy who writes romantic suspense, Gail Crease (Whitiker) who's written contemporary, Regencies, and now some women's fiction, and Vanessa Grant, author of over 25 contemporary romances, who's book "Writing Romance" is hitting shelves in a new revised version at the end of this month! You can see my pithy thoughts on writing erotic romance in her book. It was such an honor to be asked!
4. If you were stranded on a desert island with one of your hot and hunky heroes, which one would you choose?

Only one? No fair... it took 2 books to finally figure out which hero my heroine would keep in Midnight Confessions. I had such a hard time because I loved both men... in fact I didn't know which man my heroine would choose until the day before the book was due. Talk about writing my fingers to the bone at the end! So, how's this...I choose the man Faye chose. You'll have to read both Midnight Confessions to see why I'm being so coy...I suffered as the writer...so you must suffer, too. LOL...I'm evil, I know! So, look for Midnight Confessions II in June.
5. What's coming up in the near future for you?
I've got so much going on in the next few weeks and months! But here's a rundown: March 10 I'll be signing books from 1 - 3 p.m. at Indigo Books, 1025 Marine Drive, Vancouver, BC. On the 13th I'm at the Babeland store on Pike Street in Seattle at 7 p.m. for a reading and signing. Then I'm going to the Romantic Times Convention in Houston. I'll be there April 24 - 29th with time set up at Club RT and at the book fair/signing. This will be my first RT and I'm thrilled to be able to go. I'm so looking forward to it.
Thank you, Bonnie! You can read more about Bonnie and her stories by going to www.bonnieedwards.com.

PS...watch for the blog I put up late Sunday night. I'm celebrating the 100th blog post!