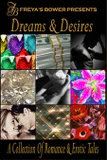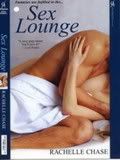 It's a bit of an understatement to say Rachelle Chase is one busy lady. She has many things going on, whether she's writing or lending a helping hand to others to help them become published. If you haven't heard of Rachelle Chase until now, well, keep an eye out for her in the very near future as this rising star of romance hits big time!
Sit back and meet...Rachelle Chase:
1. What is the title of your latest (or upcoming, if that applies) release and what's it about?
I have a short story in DREAMS & DESIRES titled "Romance for One" – about a woman dining alone at her favorite restaurant while fantasizing about the man two tables away. DREAMS & DESIRES is a charity anthology featuring myself and 18 other awesome authors, which will be available February 1st. What makes this project so exciting is: Neither the publisher, Freya's Bower (
www.freyasbower.com/content/view/132/77
), nor the authors make a dime from this book - all net profit goes to a battered woman's shelter in Florida.
Additionally, I've got two books coming out this year. My first single title, SEX LOUNGE (
www.rachellechase.com/SexLounge1.html
), is about a woman whose erotic journal is discovered by the guy she's been writing about, while SIN CLUB (
www.rachellechase.com/SinClub1.html
), my single author anthology, features three novellas tied together by a talk show called The Sin Club where the host encourages callers 'to sin' – in a good way. SEX LOUNGE will be out in May 2007 and SIN CLUB will be released in December 2007.
2. How do you come up with ideas for your stories?
It really varies. Sometimes, a snippet of an idea will pop into my mind and I'll brainstorm about it. For example, I got the idea for a strip scene and brainstormed about what would make it interesting - and then it came to me, "What if the heroine thinks she's doing a striptease for her boyfriend but it's witnessed by a stranger, instead?" This became the opening scene for "A Sinful Striptease," the first story in SIN CLUB.
Other times, a real-life event can trigger a story. One night, I was standing with a friend outside of a nightclub, waiting for another friend to get the car and pick us up. This guy drives by and yells his phone number out the window, asking me to call him. I roll my eyes and think, "What kind of woman is going to call some guy who shouts his name out during a drive-by?" And that's how "A Sinful Phone Call," the second story in SIN CLUB, was born.

3. Which authors have influenced you over the years, whether for their writing or for their friendship?
This is a tough one, for when I was a kid, my parents were always trying to get me to go outside and play, instead of hibernating in my room, reading. Some of my favorites while growing up include Stephen King, Dean Koontz, Linda Howard, Sandra Brown, Anne Mather, Kathleen Woodiwiss, and countless others. My introduction to erotica happened as a teenager, when I stumbled upon a copy of Nancy Friday's MY SECRET GARDEN, then years later I became hooked on erotic romance when I read Robin Schone's THE LOVER.
Since I've begun writing, so many authors have surprised – and honored me – with their support and friendship. I'm ever grateful to Lori Foster for selecting "Out of Control" for her online "Pick of the Week," which indirectly led to its publication in SECRETS VOLUME 13 (
www.rachellechase.com/OoC1.html
). Leigh Michaels, who started out as my romance writing teacher, has become a friend and colleague. Brenda Novak and Mary B. Morrison taught me the ropes at my first two book signings and have been my friends ever since. Calista Fox, a fellow SECRETS VOLUME 13 author, always accommodates my last-minute chapter critiques … and the list goes on.
4. You are a busy woman. Tell us a little about all that you do.
Oh boy. Maybe answering what I'm not doing would be easier. LOL
I've just launched a live talk show, "Chatting with Chase," (
www.rachellechase.com/ChattingWithChase.html
) which will feature monthly interviews with bestselling authors where folks can call in to participate or listen to it streaming over the Internet. I'm excited to have Robin Schone as my first guest on 2/11 at 4:30 pm PT.
In April, I'll be teaching, "Making the Mundane Erotic" at From the Heart Romance Writers (
www.fthrw.com/workshops
). I'll be on the Divas Dish erotica panel at the Romantic Times Convention in April and Brenda Novak and I are presenting "Aggressive Promotion for Pennypinchers" at RWA National in July. Then there's the Sex Lounge 'Seduce Me' contest coming and ... Oh yeah, the day job.
5. What's coming up in the future for you?
I'm making revisions to RUNNING AWAY, my humorous women's fiction project, which I hope my soon-to-be agent can start sending out in March. Plus, I have two erotic romance projects, WET DREAMS and SCENT OF A MAN. And then there are proposals for two other books I'm supposed to be working on …
Thanks so much for the interview, Patti. It's an honor to be featured at RRT!
Thanks for chatting with us, Rachelle! You can learn more about Rachelle by visiting her website at www.rachellechase.com/Home.html